Western Columbine (Aquilegia formosa) is a native wildflower which has reddish orange petals &amp yellow center early to late spring.

It is at its height of flower in May, but deadheading &amp persistently moist soil can keep it blooming well into summer.

Its natural range extends from Alaska &amp British Columbia to Washington, Oregon, California, Idaho, Montana, Colorado, &amp Nevada.

It's somewhat deer resistant, rabbits seem not to like it at all, yet it is attractive to hummingbirds, butterflies &amp sundry pollinators. It's adaptable to most zones &amp many conditions, as easy as any showy wildflower gets.

It can do very nicely in full morning sun, or dappled afternoon sun, or even full afternoon sun with sufficient watering. Flower stems reach two feet of height to as high as four feet, over a leafy clump one or two feet high &amp a foot or so wide.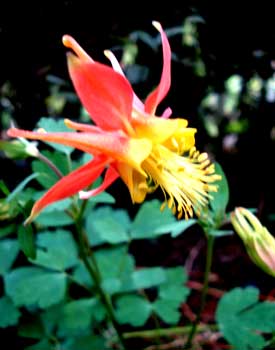 If it experiences summer drought it will die back early &amp not return until the following late winter or early spring. With regular irrigation in well-draining soil its delicate round leaves will be seen all summer.

As with hybrid columbines, it can be shortlived, a clump petering out in three or four years. It will self-seed very handily, but is apt to have hybridized with domestic cultivars, so one never knows what a seedling will grow up to look like in flower.

This one lived for three years in a deep shade garden. It was somewhat "banished" so that there'd be less chance of it hybridizing with cultivars; I wanted to preserve it as the species. Alas, I selected an area too dark for seedlings to establish. The adult clump did fine but when it reached the end of its short life, it had left no offspring. So we no longer have this in our garden, though I do intend to plant it again, next time in a brighter location hoping it will seed about like some of the other columbines do.

The flowers are edible as a decorative salad garnish, having a sweet nectar at the base of the flower (in the knobs of the spurs) which akin to honeysuckle often entices children to pick them from the garden &amp suck at the back of the flower.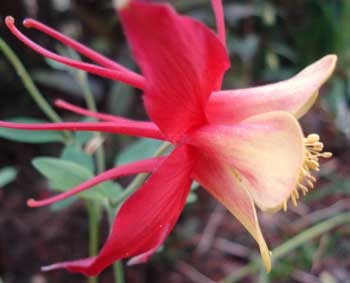 The leaves are also edible early in their season when still tender, either in salads or cooked.

Crushed seeds were traditionally rubbed on the skin as a mild perfume &amp flea &amp louse repellant, or included with clothes stored in boxes.

Some good research has been done on various species of aquilegia which suggests its past use as a folk remedy may well have some basis in reality. Polish studies of A. vulgaris extracts found that it protected rats from artificially induced liver damage [

Jodynis-Liebert et all, 2005; Adamska et all, 2003]

.

Other Polish studies indicate that isocytisoside from columbines has antimicrobial value for the treatment of Staphuylococcus, besides functioning as a fungicide

[Bylka et al, 2001, 2004]

. A Chinese study insinuates that an alkaloid in A. ecalcarata exhibits cytotoxicity against cancer cells

[Chen et al, 2002]

. The Northwest's A. formosa has likewise been investigated chromatographically in the continuous search for useful medicinal alkaloids

[Constantine et al, 1966]

.

North American tribal peoples used the roots &amp leaves medicinally. Leaves were chewed then used to rub bee-stings or small wounds. A tonic was prepared for soar throat. The seeds were chewed to relieve stomach upset. Mashed roots were rubbed on aching joints by the elderly. It had other traditional uses as well, though it seems rarely to be used by modern herbalists.