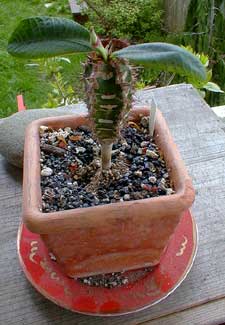 Euphorbia neohumberti:
a rarity from Madagascar
Here's a plant that is so cactus-like it is odd to realize it is deciduous. But indeed the spiked fat stem sports seasonal propeller-leaves at its top, fresh &amp green in this April 2003 portrait, but which drop off come autumn.

Euphorbia neohumberti is a desert succulent from northern Madagascar, having a thick roundish spined four-sided stem. As with the majority of protected Madagascar plants, it is somewhat rare, &amp only occasionally offered by succulent specialists.

We obtained this in 2001 &amp it hasn't grown a great deal, but it does not produce more leaves. We haven't yet had the pleasure of finding out if the promise is true, that its red-yellow blossoms are reliable, as their reliability hasn't been proven for us as yet.