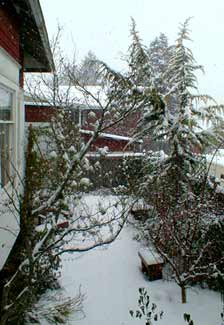 For January 2004, immediately after New Years, we initially had about four inches of shortlived snow, but that was followed within the week by a whopping eleven inches &amp no warm rain to melt it until four days later. We drove nowhere, but stayed home &amp enjoyed watching children sledding down the steep road in front of our house.

In many parts of the country this amount of snow would be regarded as nothing much. But in our hilly region eleven inches is a once-a-decade storm, twice what is usually expected, every other year or so, &amp enough to shut down schools &amp paralyze the cities &amp towns. For whoever gets to stay home &amp play, it is of course quite a joyous change of winter's pace, &amp it never lasts a great long while.

The second photo shows the back yard viewed facing north from atop the high deck-porch. The photo was snapped through limbs of a vine maple, &amp showing the triple-leadered top of the Cedar of Lebanon further along the gardens. The small tree-like shrub near the small wooden bench is a winter-blooming Dawn Viburnum, but the photo didn't bring out the pink flowers all over it. If you follow the links to the vine maple, cedar, &amp viburnum, you will see more photos of snowy days.