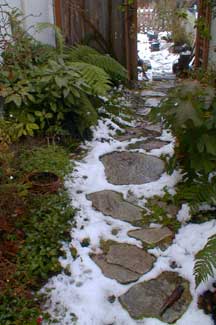 The flagstone path shown facing east through a shade-garden is not pictured on the same day after the same snowstorm, but a week earlier after a much lighter snow flurry.

The main plants visible on the left of this pic are an ultra-hardy evergreen Japanese Aucuba &amp a young Tree Fern, the snow not reaching them because of a large overhanging eave. The Tree Fern is not entirely cold-hardy for our zone but has done fine for several years, though come spring some winter-damaged fronds will need to be removed.

The main shrub visible on the right is an Oakleaf Hydrangea which though nominally deciduous behaves as a winter evergreen in our garden, there being extravagant behavior in their variety from strain to strain &amp condition to condition.

This is in the main a shade-garden, &amp many a shade garden dies to the ground in winter with nothing showing, but we've selected enough that is evergreen or has interesting bark to keep it lively even in winter. Much else of winter interest isn't captured in this photo. For instance, the warty bark of the Pacific Elderberry's multi-trunk has melded invisibly against the back fence. A winter-blooming corkscrew hazel stands at the sunny head of this corridor immediately behind where I stood to snap the photo.

Plus there smaller evergreen ferns, hellebores, &amp winter-blooming cyclamens spice up areas underneath the larger features. Some of the wintergreen shrublets are actually visible at the lower left of the present photo. Such as these make up for the the winter-vanishment of bleeding heart, hosta, corydalis, &amp such spring ephemerals as trilliums &amp bloodroot &amp dogtooth lilies.